The names of the Monastery was changed a few times and the present name, LEONG HWA MONASTERY was adopted at a recent general meeting held on 20 April 2003. The new name better reflects the kind of activities of this Buddhist temple following the redevelopment of the building in May 2002.
Leong Hwa Monastery aims to expound the teachings of Sakyamuni Buddha and to cultivate compassion, loving kindness and wisdom for the benefit of all sentient beings in
society.


Venerable Fa Cheng, aged 34, was appointed Abbot of Leong Hwa monastery on 21 May 2017 and the investiture ceremony was held on 25 June 2017. He is a local Singaporean, graduated with a Diploma in Info-communication from Temasek Polytechnic.
Venerable Fa Cheng was ordained under the guidance of Master Seng Yuan in 2001 and in 2008, he went to Taiwan Kaohsiung Guang De Temple to receive his full ordination under the teachings of Venerable Ching Xin.
In addition, Venerable also received teachings from various Buddhist schools including Cao Dong, Lin Ji and Hua Yan schools, as well as undertook the Vinaya (a code of monastic disciplinary rules) from Venerable Yuan Zang, Venerable Chang Heng, Venerable Zhen Ding, Venerable Xu Zhen and Venerable Ming Xue.
Venerable Fa Cheng previously served on the Management Committee of Leong Hwa Monastery and he currently represents the Monastery on the Inter Racial and religious Confidence Circle in the Bishan-Toa Payoh GRC.
President : Venerable Sek Meow Ee
Vice President : Venerable Tsang Hui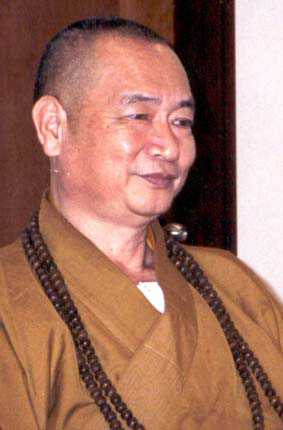 Honorary Secretary : Mr Yong Hon Gui, Freddie Senior Customer Service Manager,

3 M Singapore

Honorary Treasurer : Mr Chia Ti Yu Director (Finance, Systems & Projects), Ministry of Finance

Committee Members : Mr Chen Huihui National Service

Mr Li Le Accountant, Phillip Securities Pte Ltd

Mr Lim Kiat Seng, Assistant Property Manager,

Swee Cheng Management Pte Ltd

Mr Bernard Tan, Sales Executive, Teck Hin Undertaker

Mr Tay Han Ching, Alvin Assistant Manager, Asian Culinary Institute