Brief Introduction of LHM

Our History
Leong Hwa Monastery has more than a hundred years' of history. This was established from land title records dated on 21 March 1901. These records also contained information on the role of the various venerables towards the development of the Monastery. Some of the prominent past venerables include Venerable Sek Hock Siew, Venerable Sek Sok Wah, Venerable Sek Leong Choon, Venerable Sek Cheng San, Venerable Sek Cheng Kong and Venerable Sek Whay Kuan.
The names of the Monastery was changed a few times and the present name, LEONG HWA MONASTERY was adopted at a recent general meeting held on 20 April 2003. The new name better reflects the kind of activities of this Buddhist temple following the redevelopment of the building in May 2002.
A person in meditation: Strengthening one's conscious MIND

Bringing you peace and harmony

Leong Hwa Monastery aims to expound the teachings of Sakyamuni Buddha and to cultivate compassion, loving kindness and wisdom for the benefit of all humanity.

To propagate the religion of Buddhism through, inter alia Buddhist teachings and Dharma talks, religious ceremonies and festivities, and othet social, recreational and cultural activities.



To develop monastery and other centres for the purpose of progating the religion of Buddhism.



To care for the community regardless of race and religion with compassion and concern through its community service arm, Viriya Community Services. www.viriya.org.sg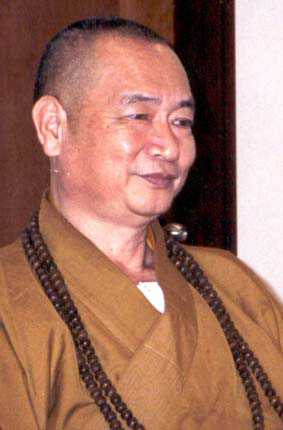 Venerable Tsang Hui was born in Taiwan and was one of the first monks to receive a modern university education amongst the Buddhist communities in Taiwan. He left Taiwan in 1977 to plant the Bodhi seed in Australia. Then in 2014, he continued his mission and established Yan San Shu Monastery in Fuzhou, China.
The Venerable is very knowledgeable on Buddhist scripts and many find his talks lively and humorous. He believes that knowledge of the dharma must be the foundation of anyone's Buddhist practice; especially for the youth, it is imperative that this foundation be laid early. It is when one is young that there is time for Buddhist study, and it is with this knowledge that "faith, confidence and interest" in Buddhism can be cultivated. Without the foundation that was built earlier, he will have no basis to live a Buddhist life.
Venerable Tsang Hui believes that Buddhism is useful and relevant to modern living. The greatest challenge of Buddhism today is to adapt to the times and focus on education. Without access to education about what Buddhism is, it is difficult for the public to truly appreciate its value - the development of wisdom, an insight into the purpose of living, the access to the tools that help us deal with the confusion and hectic reality in which we all live. However, this cannot be manifested or experienced without sufficient Dharma knowledge, and to ensure that the religion continues to thrive, it is essential that the sangha and the lay people come together to share their experience, vision, and passion.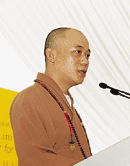 (A Self-relating Story of Our President, Venerable Sek Meow Ee)
Venerable Sek Meow Ee is our President. He took over the Monastery in 1989. When he arrived in 1989, there were only 2 elderlys adopted from the Ministry of Community Development & Sports. Under his leadership, the Monastery expanded its role to practise the teachings of Lord Buddha. Consequently various community and charitable activities were organised. These community and charitable activities are now consolidated under the Monastery's community service arm, Viriya Community Services. A self-relating story of our Abbot.


Venerable Fa Cheng, aged 36, was appointed Abbot of Leong Hwa monastery on 21 May 2017 and the investiture ceremony was held on 25 June 2017. He is a local Singaporean, graduated with a Diploma in Info-communication from Temasek Polytechnic.
Venerable Fa Cheng was ordained under the guidance of Master Seng Yuan in 2001 and in 2008, he went to Taiwan Kaohsiung Guang De Temple to receive his full ordination under the teachings of Venerable Ching Xin.
In addition, Venerable also received teachings from various Buddhist schools including Cao Dong, Lin Ji and Hua Yan schools, as well as undertook the Vinaya (a code of monastic disciplinary rules) from Venerable Yuan Zang, Venerable Chang Heng, Venerable Zhen Ding, Venerable Xu Zhen and Venerable Ming Xue.
Venerable Fa Cheng previously served on the Management Committee of Leong Hwa Monastery and he currently represents the Monastery on the Inter Racial and religious Confidence Circle in the Bishan-Toa Payoh GRC.
Our Management Committee Members
President : CHIA ENG SOON Venerable, Leong Hwa Monastery
Vice President : YONG HON GUI, FREDDIE SEA/SG Customer Service Lead, 3M Singapore Pte Ltd
Secretary : CHIA TI YU Director (Finance & Administration) Singapore Food Agency
Treasurer : LI LE Assistant Finance Manager ISPA Corporate Services Pte Ltd
Committee Members : CHEN HUIHUI Undergraduate
CHONG JIAJUN TIMOTHY Audit Associate KPMG
LIM KIAT SENG Asst Property Manager, Swee Cheng Management Pte Ltd
NG LAI HOONG H & D Construction Engineering Pte Ltd
Co-opted Members : TENG KOK HWEE THOMAS Principal Consultant/Specialist, NTUC-ARU
LEE YIN HAO NICO Lawyer, Emerald Law