18 May 2021
Dear devotees and friends,
PHASE TWO (HEIGHTENED ALERT)TIGHTERMEASURES FOR RELIGIOUS ACTIVITIES
On 14 May 2021, the Multi-Ministry Taskforce announced tighter measures to be put in place from 16 May through 13 June2021 to mitigate the risk of further community spread of COVID-19.
Under this phase, we will continue with our Sunday morning prayer service and limit the number of devotees in our Main Hall to 50, subject to safe management. All persons present must wear a face mask at all times and there should be no mingling of devotees before, during and after service.
You can still drop by the Monastery to pay respects to your deceased relatives at our Ancestral Halls, but we strongly encourage you to make pre-book your date and timing as well as keep the duration of your visit to 15 minutes. The number of persons allowed in each group is now reduced to 2 subject to safe distancing between groups.
We like to remind you to bring your TraceTogether app or token. During your visit, please do not bring any joss papers or other paper offering items for offerings to your ancestors. If, however, you wish to do so, kindly bring them home after your prayers. The health and safety of all our visitors and staff is our TOP priority. We must continue to exercise social responsibility to keep the Monastery a safe place for everyone.
UNVEILING OUR NEW LOGO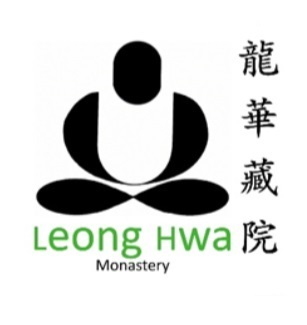 Logo: A person in meditation: Strengthening one's conscious MIND
Vision: Bringing you peace and harmony
Mission: LHM aims to expound the teachings of Sakyamuni Buddha and to cultivate compassion, loving kindness and wisdom for all humanity.
I take this opportunity to wish all Peace and Tranquillity on the 2565 th Vesak Day!
Yours sincerely

Venerable Sek Meow Ee
President
Leong Hwa Monastery
Upcoming events: